Well, well, well...looky here.  Yep, that's little 'ol me on Tip Junkie.  Geee, thanks so much Laurie!
If you're hoppin on over here from Tip Junkie and want to see the rest of my cute little kits, just click on that link up there in the right hand corner, or you can click here.  I also have the Harvest blocks available on the main blog if you'd like.  I bet they would make your house look so cute for fall!  You know they are calling you, "buy me, buy me...I need a good home."  O.k., I offically think I've gone too many nights on too little sleep.  This post makes that all too obvious. 
Now for the tricky part...can I get a blinky to work on my blog?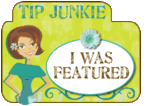 Oh...my...gosh...I think it worked!  Maybe I'm not has blogtarded as I thunk I was. 
Or maybe I still am.